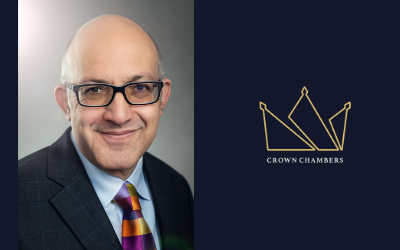 Crown Chambers Welcomes Second QC Crown Chambers is privileged and delighted to welcome Cyrus Larizadeh QC to our Chambers as a Silk Door Tenant. Cyrus is a specialist family law barrister who is highly experienced in non-accidental injury. He...
Crown Chambers' Barristers, are some of the leading barristers in their respective fields in England and Wales. With many years experience, they have dealt with many high profile cases across the UK.
Justice means access to justice?
The Family Court in COVID – justice means access to justice?
New kids on the 'Bar'
Crown Chambers, Hull's newly established Barristers Chambers has recently completed its first two months in business, and it has been packed with team growth detailed work on business operations and a number of legal cases.
"A family law specialist who receives instructions on a number of complex care proceedings, including allegations of sexual abuse and contested placement orders." 
"She is user-friendly and down to earth."
"Top-grade junior."
"They have on numerous occasions provided my clients with a service that is second to none.  They are always very well prepared for hearings and always provides feedback from the hearing at the first available opportunity."